Gunungkidul Beach Tourism
Things you can't miss when you visit Yogyakarta
Gunungkidul is a district of the province of Yogyakarta Special Region. At first, Gunungkidul was an area that was *sorry* identical with backwardness, drought & and many suicides. Gunungkidul is structurally not a fertile area, but rather a rocky area (Karst) which is difficult to plant rice fields or plantations. But that was a long time ago, Now Gunungkidul has changed. At present Gunungkidul is a tourist destination that amazes many tourists, both local and foreign.
One of the things you can't miss in Gunungkidul is The Beaches. To the south of Gunungkidul, There are beautiful beach cluster. In fact, most are still natural, So sometimes many visitors label them as Private Beaches. Indeed, when you reach one of the unspoiled beaches, there aren't many people there, even you can be alone there.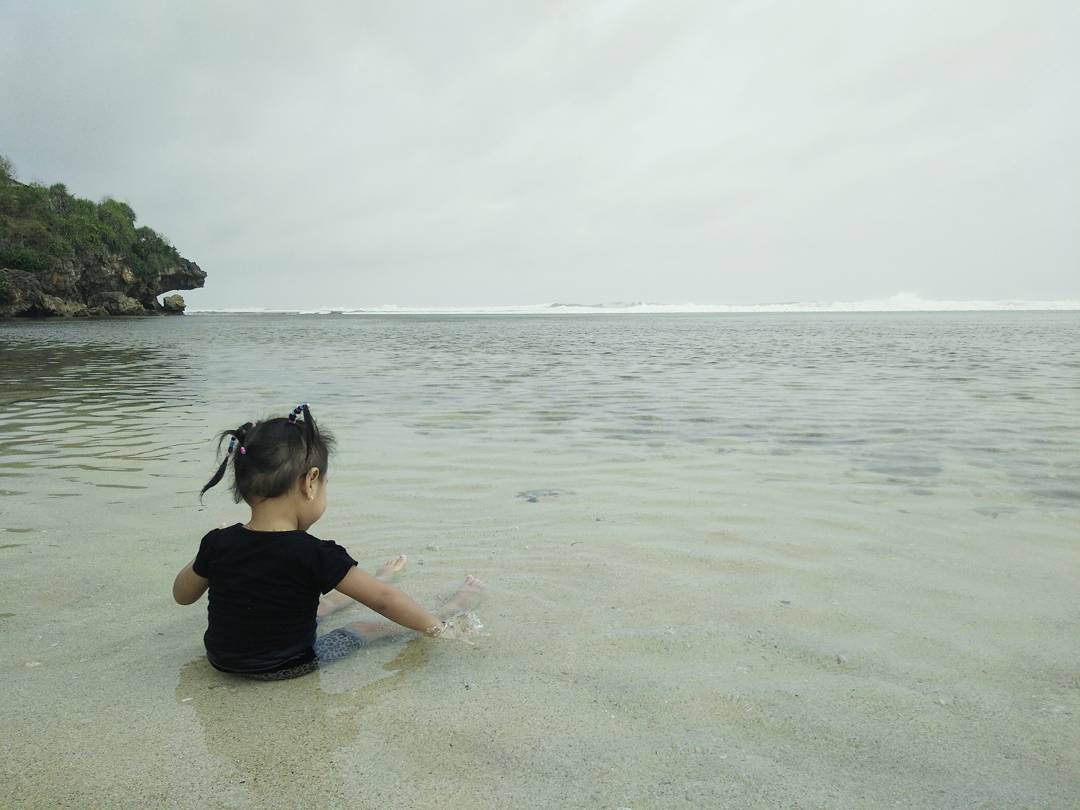 Sundak Beach.

Foto ig : @aneke_jeney
What factors make the beaches in Gunungkidul worth visiting?
The beach in Gunungkidul has white sand or is closer to beige color, while from the border of Bantul Regency to the west, the beaches are black sand. Natural processes over thousands of years ago made it that way. Some like white sand, some prefer black sand. However, white sand looks more attractive than black sand. The color of the sand becomes more exotic if it meets clear sea water and black coral.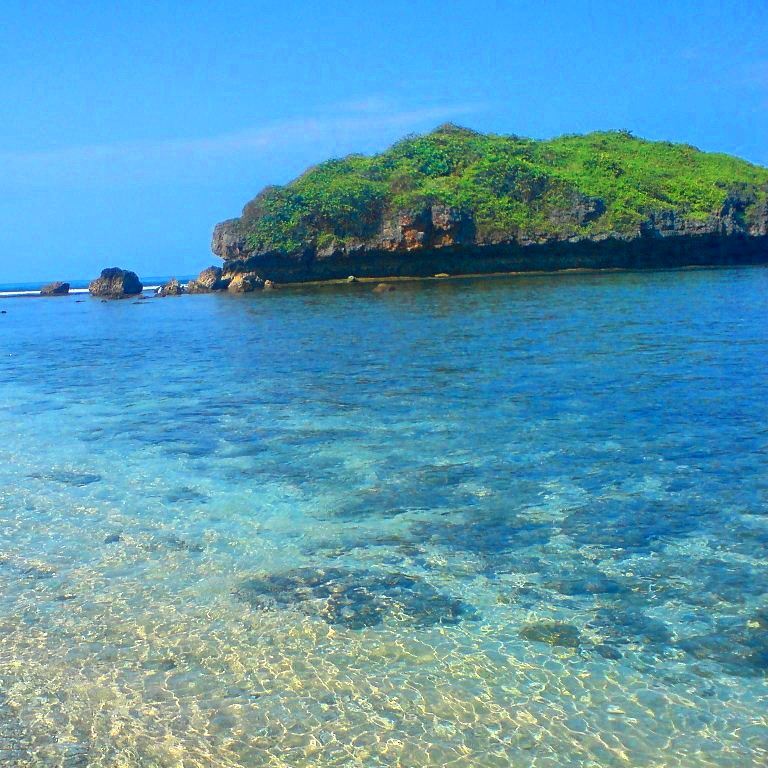 Drini Beach.

Foto Ig : @mas.indr4
There are many beaches in Gunungkidul that you can visit. there are almost 50 more beaches that have names and are managed by either local village youth or by the Gunungkidul district government. Among those who already have big names like
Indrayanti Beach
, Baron Beach, Krakal Beach, Drini Beach, Timang Beach, Nglambor Beach,
Wediombo Beach
, Gesing Beach,
Sadranan beach
, Parangendog Beach, Ngrenehan Beach,
Ngobaran Beach
and many more.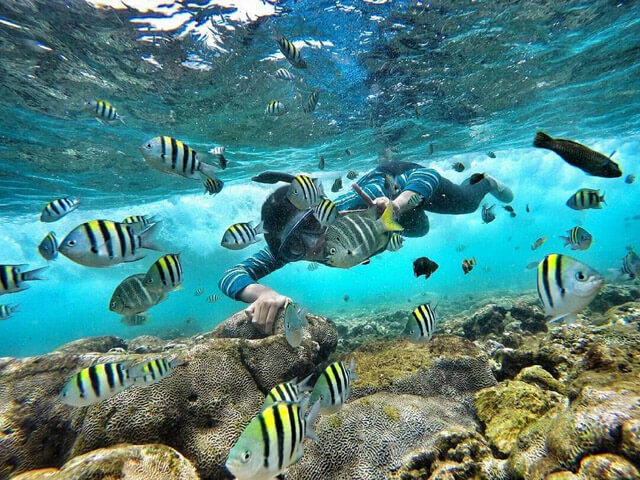 Nglambor.Beach Foto Ig : @nglambor_beach
The beaches in Gunungkidul have each different tourist specifications. There are those that accentuate their natural beauty, some highlight their naturalness, some can be used for camping, snorkeling, fishing, surfing, even playing paragliding.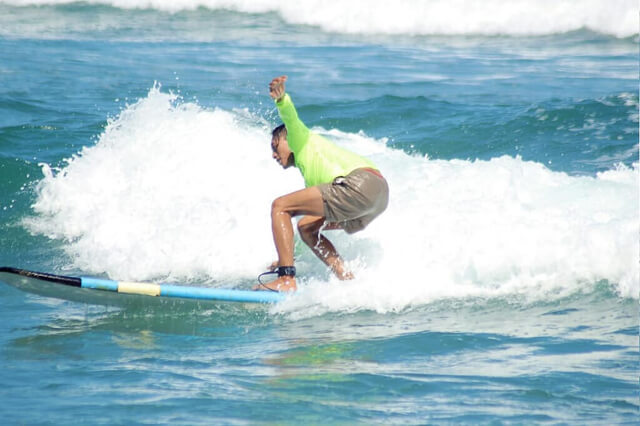 Surfing in Wediombo, Beach? Foto Insta @jacki.dot
Almost all beaches in the southern region of the province of Yogyakarta have the following characters
Big and ferocious waves. Almost all the beaches in Gunungkidul have big and fierce waves, So you have to be careful there. On the beach there are usually prohibited signs for swimming. However, there is a beach with contours jutting to the land or beaches whose waves are blocked by coral islands, so that the beach can be used to swim safely.
Reef Ground, Nearly all beaches in Gunungkidul are reef ground, where marine animals can grow and multiply there. When exploring the reef, you must wear a foot protector or sandals so that your feet are not injured. The reef can be explored when the sea water recedes.
White sand, All beaches stretching from Parangendog on the Bantul regency border to Sadeng Beach on the Wonogiri district border, have white sand. White sand stretches to the east into Pacitan district and so on in East Java. While the black sand stretches from the western region into Kebumen district and so on in Central Java.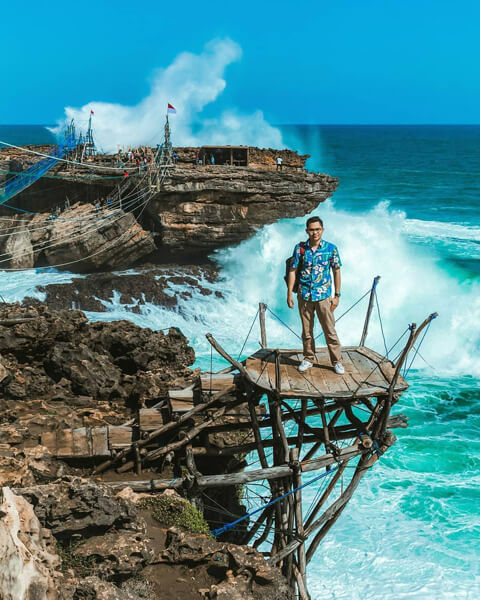 Timang.Beach Foto Insta @pantai.jogja
Which beach should have you visited in Gunungkidul?
Maybe this could be a reference if you want to visit Yogyakarta. If you are a lover of natural beauty, you can visit Ngetun beach, Pringjono, Nglolang, Jungwok, Pok Tunggal,
Sedahan
, Greweng and many more. If you are a surfer, you can visit Wediombo Beach. If you want to try snorkeling, you can visit Wediombo Beach or
Nglambor Beach
. If you like a challenge, you can visit
Timang Beach
to ride the Gondola or rappelling on the
coast of Jogan
. For those who like rock climbing, can visit
Siung Beach
and who want to challenge the adrenaline, you can go to
Parangendog Beach
to try paragliding.
For more complete list of Gunungkidul Beach, you can seet on
60 awesome beach on Gunungkidul
Gunungkidul Beach Tourism
Reviewed by
Trvlst
on
12/11/2018
Rating: